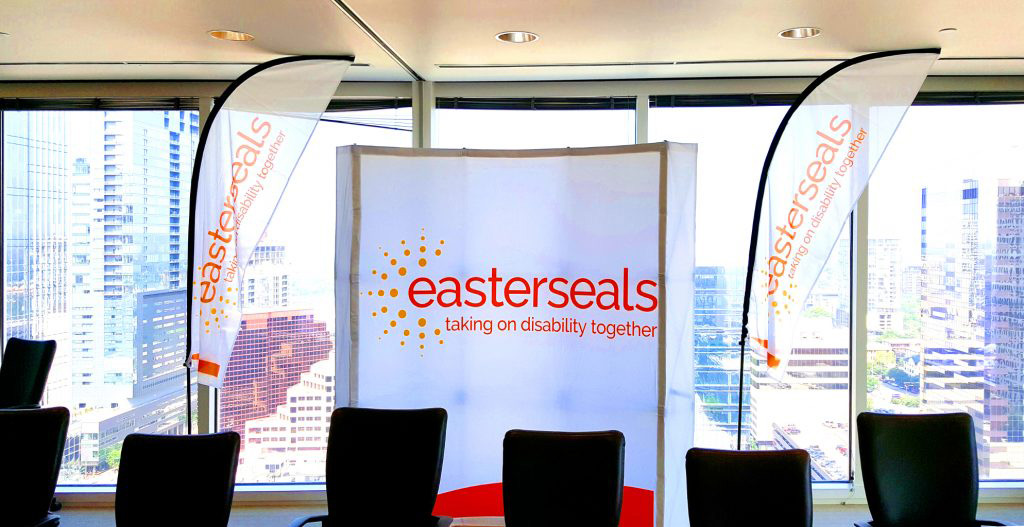 Custom flags and banners are powerful marketing tools that create brand awareness AKA the extent to which customers are familiar with the image or specific qualities of a particular brand or service. Custom banners in front of your business, or at an event, draw the attention of customers with their graphics. Banner printing can place your logo, company name and marketing slogan on custom flags and banners of all shapes and sizes. They market your company and help people remember your name and the services you offer. Plus, they are a simple and inexpensive marketing tool that can be used on a daily basis while providing an impressive return on investment (ROI).
What Are The Types Of Custom Flags And Banners
Businesses looking to market using custom flags and banners have multiple options:
Pull-Up/Retractable Banners – These custom banners are double-sided and perfect for signage needs at trade shows and indoor events. Thanks to the retractable system used for displaying them, pull-up banners are easy to display and can be seen from both sides which doubles your marketing impact.
Step and Repeat Banners – This banner printing solution is seen at red carpet events for press photos. Step and repeat banners feature your logo behind the people taking photos which gives an "event feel" to your marketing efforts.
Custom flags – They are displayed in the area outside of a business and include your name and marketing message. Plus, they get your business "passive attention" which means you are getting attention you didn't ask for but you are getting anyway thanks to the eye-catching nature of the flags.
Professional Banner Printing & Installation Services
Professional banner printing and installation services let you know the many options available to you in order to market your business. Custom flags and banners can be made out of various materials including vinyl, mesh and fabric. The company handling your banner printing needs will discuss your marketing goals and strategy so they can determine the correct type of custom banners to achieve your desired final results. Custom flags and banners brand a business, reach a large indoor and outdoor audience and spur impulse buying decisions.
Jumpstart your marketing efforts when you call us today about custom banners and flags for your business.
Contact Us Now for More Information